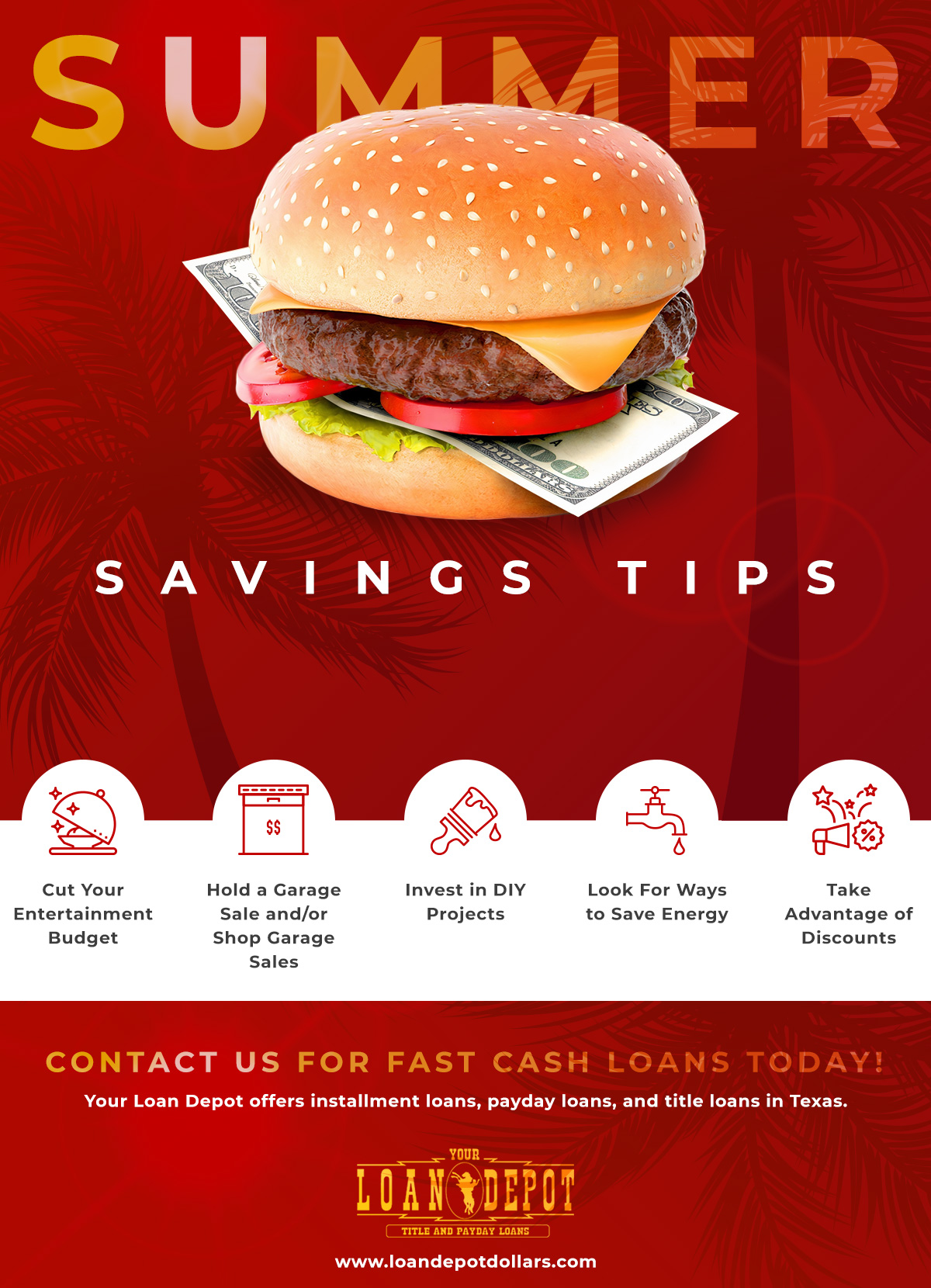 Summer is here, and there is so much to see and do. The days are long, and the outdoors and nature are beckoning you. After work and on the weekends, you can't wait to get outside and enjoy all that the warm weather brings, whether that's lying by the pool or on the beach or going boating on a nearby lake. Texas has so much to offer in the summer — so much so that it can be incredibly easy to overspend your budget.
Your Loan Depot offers exceptional cash advance loans, title loans, and installment loans to meet your cash needs. Whether you need to fly out for your best friend's wedding or your water heater just tanked, we've got your emergency needs covered. Whether your credit is poor and you are looking for a no credit check installment loan, our lenders can help. Or, you've been saving up for a special purchase for a special someone (it is wedding season!), so you're interested in a title loan, our superb loan team can answer all of your questions. Below, we'll go over some incredible summer savings tips to help you meet your financial goals. Contact us today to learn more!
SUMMER SAVINGS TIPS
Cut Your Entertainment Budget
While we all love to go out to a restaurant and eat, see a movie and grab some popcorn, or go out for a night on the town, these excursions can add up big time. However, during the summer there are plenty of free or low-cost entertainment opportunities you can take advantage of. Check out your local town's summer activities. They may be offering free concerts in a park, outdoor movie nights, and free days at local museums. Oftentimes, there will be a local weekend festival as well with vendors and kids' play areas to take advantage of as well. Your Loan Depot in Texas urges you to take advantage of any and all free activities near you.
Garage Sales
Many people love to go to garage sales in the summers, and let's face it, we've all heard about the antique someone picks up at a garage sale that turns out to be insanely valuable. Outside of the rare find, you can get a lot of items on your shopping list for dirt cheap at garage sales, from furniture to cutlery and more. In addition, you can hold a garage sale yourself and get some money from your little-used items as well. Another popular way to save money is to sell your items online as well. This is a great way to pad your savings while getting rid of stuff that is only taking up space in your home.
Invest in DIY Projects
By the time spring rolls around, many of us have projects that have built up and are itching to be done, such as planting trees or installing sod. By doing these yourself instead of hiring a professional, you can save big time. And since the weather is so nice, you really don't have an excuse not to! From painting your home to adding on a deck, there are many projects you can DIY, and you might just surprise yourself. Your Loan Depot in Texas notes that replacing flooring and doors are popular DIY home improvement ideas.
Look For Ways to Save Energy
Probably your home is leaking energy in places that you can tighten up and save money big time. One often overlooked place is your doors and windows. You can add in caulking to prevent air from leaking out and save up to 20% on all your utility costs. You can keep your blinds and curtains closed during the day. The sunlight that streams into your home through your windows heats up your home's air, which you then spend all day fighting to cool it down. While this is great in the winter (in fact, the opposite tip applies in the winter), it's not so great for your AC unit in the summer (which now has to run more) — or for your pocketbook. Instead close the curtains to the windows that let in direct light and open up the windows that let in indirect light to save on your heating bill. You can also shut the doors to the rooms in your home not being used so your AC unit won't have to spend a lot of time trying to cool them down. One more tip that Your Loan Depot in Texas loves is that you can save money by washing your clothes in cold water instead of hot water. They will still get just as clean, and you'll save big time in water usage.
Take Advantage of Discounts
There are a myriad of discounts you can take advantage of to save money. Many companies offer travel discounts. You can often save by bundling hotels, airfare, and rental cars. You can start clipping coupons, but in today's world, most coupons are digital, making it even easier to get discounts. Almost all stores now price match. When you go out to eat, look for the nights that kids eat free. If you're a senior, milk that discount for all its worth (this same advice goes to student discounts as well). With Groupon or other coupon places online, you can score great deals, and if you head over to the company's website personally, you may be able to find specials as well.

CHOOSE YOUR LOAN DEPOT IN TEXAS FOR YOUR NEXT CASH ADVANCE NEED
Saving money is one of the best ways to meet your financial goals. Your Loan Depot in Texas offers many types of loans to meet your cash needs, from cash advance to title and installment loans. We offer an easy online application process that can get you the cash you need fast. These loans are no credit check loans, so even if you have bad credit, we can work with you. Whether you need a short-term loan to get you to your next paycheck or you're looking to buy something bigger, we can help. With our installment loans, you can use your vehicle as collateral, have a set payment date, and get a lower interest rate. Our payday loans are quick, and so are our car title loans.
We understand that at times you need cash fast. After all, emergencies happen, and it's nice to have same day loans available. When you partner with one of our offices, such as in Bryan, Tomball, Airline, Conroe, and more, you can rest assured your needs will be taken care of. As a smaller lending company, we can respond quickly to your needs. When you need cash fast, reach out to your team today!