When you need fast cash to tide you over between paychecks, it can feel like there is nowhere to turn if you don't have the credit score banks and credit unions look for. Even if you do, dealing with them for a loan takes a long time — time that you and your financial situation simply can't afford to let pass. 
That's why payday loans, bad credit loans, title loans, and installment loans exist. It's also why Your Loan Depot is one of the best options Texas residents can turn to when the chips are down and you are in need of emergency cash. 
Five Steps To Get Fast Cash In Texas
In today's blog, we will highlight our simple five-step process to get you your payday loan so that you can get out of "the red" and get your head above water, financially speaking. If you have emergency medical bills, are struggling to make rent, or have other unanticipated expenditures crop up, we want you to know that we at Your Loan Depot are here to help. Below, we'll tell you how. 

Step One: Realize You Are In A Pickle With Your Piggy Bank
Guess what? We've got some good news. The fact that you've found your way to this Your Loan Depot blog means you've already completed step one! That's right, you've already realized that you need to look into your options because you are cash poor. For some people, they wait until it's too late and everything is up in flames. Ideally, you aren't reading this blog while your home is in flames all around you, so pat yourself on the back if that's not the case! 
(If it is, immediately stop reading, leave your home, and call 911).

Step Two: Give Your Loan Depot A Call
To get the cash advance you are looking for, the next step is to simply give Your Loan Depot a call, or walk through the doors of any one of our many payday lending Texas locations. 
Our representatives are professionals; they will take the time to explain the fine print so that you are completely equipped to make the best financial choice for you and yours. They'll help you navigate questions regarding the repayment terms, if your situation is actually an emergency, and how you might be able to take advantage of the value in your vehicle and get up to $5,000 in cash via a title loan. 
Step Three: Apply Online To Accelerate The Process
At Your Loan Depot, we understand that our prospective customers come to us because they are in a crunch — the quicker they can get the cash, the faster they can get back on their feet in many cases. That's why we do everything in our power to eliminate the lengthy applications and costly rates other payday lenders include so that you can get the money you need, when you need it. 
The third step is to apply online so that we can quickly review and, hopefully, approve your payday loan application. 
Step Four: Get The Emergency Cash You Need!
This is the fourth (and best) step. You can get up to $1,000 in cash via our payday loan program. Now you have the cash you need to handle your emergency.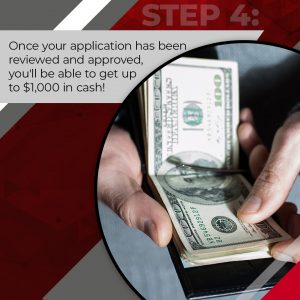 Step Five: Repay Your Loan On Time!
It probably comes as no surprise to you to learn that, industry-wide,  65% of people don't repay their loans according to the loan agreement. That's why it's vital to do your due diligence prior to agreeing to the loan itself; the reason that payday loans have such high interest rates is that payday lenders need to remain profitable by protecting their investments. While banks and credit unions can afford to be choosier about who they approve for a loan, most payday lenders don't have that luxury. 
Hence, it's on you to make sure that you'll be able to pay the money back in a timely manner so you don't get buried with interest payments down the road. So, step five — repay your loan on time and everyone goes home happy!

Contact Texas' Top Payday Lender
We hope you've enjoyed this primer on our payday lending service here at Your Loan Depot. If you would like more information, don't hesitate to reach out to us at your convenience. We'd love to hear from you and help you get the fast cash you need!